Relaxing after a wonderful meatloaf and mashed potatoes dinner with a bowl of VaPer Three Nuns in the first pipe Trever Talbot made when he went to France many years ago. It's a smooth straight Algerian briar Billiard bowl with a long Canadian stem, unbranded. Haven't smoked this pipe lately, so it's due. Watching the Olympics.
Part way through this bowl of Mike & Russ: The Mind Meld - Virginia Ribbon in a straight black sandblast 2 star Ferndown Bark Prince with a Cumberland stem. Have enough for one more bowl.
About half way through this bowl of McClelland 27 in a 2014 smooth medium bend Basil Meadows egg with an aluminum band and a "root beer swirl" acrylic stem.
Almost a quarter of the way through this bowl of Peterson Signature Flake in an egg shaped medium bend smooth Burgundy colored 1985 Caminetto with a black acrylic stem.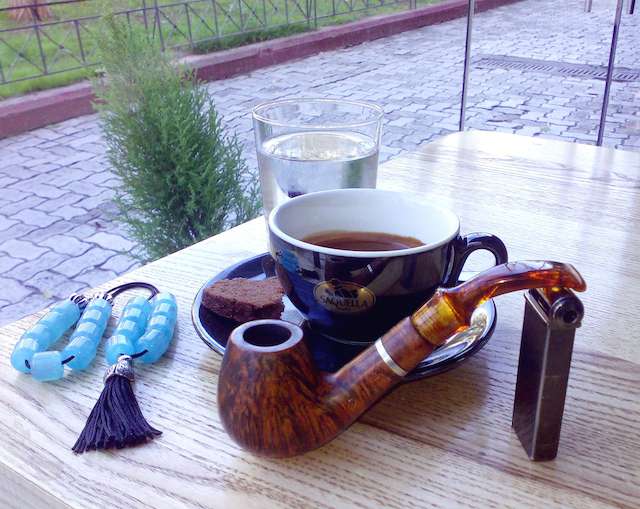 Rajek's No. 23.
Dunhill 965 in the Brog39. Happy Monday!
Sent from Jon's Coffee Grinder cause I got too dizzy...
---
....that's almost like flying on a plane with one wing. ~Cigary
Elder Puffer Fish Leader
Join Date: Sep 2015
Location: Webster, Monroe Co, NY ROC City Metro
Posts: 5,113
Davidoff Medallion in the Dunhill County Zulu. With water.
I was totally out of it yesterday. Dang headaches.
Sent from my iPhone using Tapatalk
---
El Gringo Alto y El fumador de muchos pudos! -my Nica description.
Just finished smoking Edward G. Robinson's Pipe Blend in a 2014 Basil Meadows smooth slight bend squashed tomato with an aluminum band and a black pearl acrylic stem.
Now smoking Tedís Pipe Shoppe 1-11 in a 2015 smooth unfinished Savinelli 320KS author with a black vulcanite stem. A bottle of Cheerwine made with pure cane sugar is my drink.